News From Our Writers
J. Alan Brown
has been writing for four years and has published several stories and essays on the web and in print. His work has been seen in EOTU E-Zine, Peridot Books, and Byline Magazine, among others. He has written two novels and is hard at work on the third. Readers can join his mailing list by sending an email to
ReadJAlanBrown@hotmail.com
---
jangeo Pinkerton
Check out this excerpt from jangeo Pinkerton's book:
The Templar Knight, Book one: A Witch Spell
You can buy the book here:
---
Joy V. Smith
Joy V. Smith's story, Seedlings, is in Magistria: Realm of the Sorcerer, also available in paperback here:

---
Aurelio O'Brian
Although he had specified single child, Nob Hill, and substantial wealth on his pre-birth application, Aurelio O'Brien was flabbergasted to discover that he had been born into a raucous household of seven rival offspring living amongst the cherry orchards of Sunnyvale, California.
To avoid drowning in this sibling sea, Mr. O'Brien cultivated creative talents: looking innocent to his parents while smirking at his brothers, deflecting blame for all things broken, and most of all, inventive storytelling. These gifts served him well during his schooling at CalARTS and later employment as an animator, designer, and story artist in the sweatshops of Hollywood.
After twenty years of telling their stories, he resolved start telling his own. "EVE" is his first novel, and another is on the way. He also has a short story entitled, "Agony & Ecstasy Jones" that will be appearing in an anthology book early next year.
There is more about "EVE" and Aurelio at: www.evethenovel.com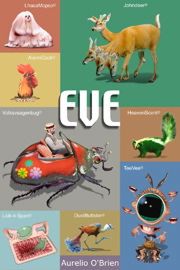 ---
Fran Jacobs
The website dedicated to the writing of Fran Jacobs,
dark fantasy writer. Learn about her current projects, future plans and past achievements. Read extracts from her dark fantasy novel, the Shadow Seer, or her faerie novel, The Soul Keys, and learn more about the worlds in which these novels are set.